Hotline Services




0444 5648 91011

Customer Email




hi@moviepedia.co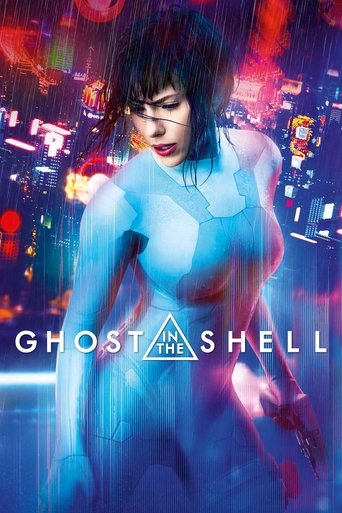 Ghost in the Shell
2017
Ghost in the Shell Synopsis
Dans un futur proche, le Major est unique en son genre: humaine sauvée d'un terrible accident, son corps aux capacités cybernétiques lui permet de lutter contre les plus dangereux criminels. Face à une menace d'un nouveau genre qui permet de pirater et de contrôler les esprits, le Major est la seule à pouvoir la combattre. Alors qu'elle s'apprête à affronter ce nouvel ennemi, elle découvre qu'on lui a menti : sa vie n'a pas été sauvée, on la lui a volée. Rien ne l'arrêtera pour comprendre son passé, trouver les responsables et les empêcher de recommencer avec d'autres...
Directeur:

Rupert Sanders

écrivains:

Jamie Moss, Jonathan Herman.
Ghost in the Shell Quotes
Ghost in the Shell movie quote not found..
Ghost in the Shell Film
2017
Ghost in the Shell informations
Ghost in the Shell moulages
Ghost in the Shell équipage
Ghost in the Shell images
Ghost in the Shell Movie Wiki
Date de sortie:

2017-03-29

Statut:

Released

Durée: 107 min / 1:47
Le budget: $110,000,000
Revenu: $153,972,055
Original Name: Ghost in the Shell
Sociétés de Production : Paramount Pictures, DreamWorks SKG, Shanghai Film Group, Reliance Entertainment, Arad Productions, Grosvenor Park Productions, Steven Paul Production, Huahua Media, Seaside Entertainment
Pays de production: New Zealand, United States of America, United Kingdom, India, China, Canada
Ghost in the Shell Aperçu
Genre:
Language:
Ghost in the Shell Trailers & Videos

Warning: file_get_contents(https://www.googleapis.com/youtube/v3/search?part=snippet&maxResults=2&safeSearch=strict&type=video&q=ghost-in-the-shell movie trailer&key=AIzaSyC4-w6oRwNBbBGbx6V8y70y54BzDh1WDbg&videoDefinition=high&order=viewCount): failed to open stream: HTTP request failed! HTTP/1.0 403 Forbidden in /var/www/vhosts/moviepedia.co/Application/View/Movie/Index.phtml on line 533

Notice: Trying to get property of non-object in /var/www/vhosts/moviepedia.co/Application/View/Movie/Index.phtml on line 535

Notice: Trying to get property of non-object in /var/www/vhosts/moviepedia.co/Application/View/Movie/Index.phtml on line 535

Notice: Trying to get property of non-object in /var/www/vhosts/moviepedia.co/Application/View/Movie/Index.phtml on line 535

Notice: Trying to get property of non-object in /var/www/vhosts/moviepedia.co/Application/View/Movie/Index.phtml on line 536

Notice: Trying to get property of non-object in /var/www/vhosts/moviepedia.co/Application/View/Movie/Index.phtml on line 536

Notice: Trying to get property of non-object in /var/www/vhosts/moviepedia.co/Application/View/Movie/Index.phtml on line 536

Notice: Trying to get property of non-object in /var/www/vhosts/moviepedia.co/Application/View/Movie/Index.phtml on line 536

Notice: Trying to get property of non-object in /var/www/vhosts/moviepedia.co/Application/View/Movie/Index.phtml on line 536

Notice: Trying to get property of non-object in /var/www/vhosts/moviepedia.co/Application/View/Movie/Index.phtml on line 537

Notice: Trying to get property of non-object in /var/www/vhosts/moviepedia.co/Application/View/Movie/Index.phtml on line 537

Notice: Trying to get property of non-object in /var/www/vhosts/moviepedia.co/Application/View/Movie/Index.phtml on line 537

Notice: Trying to get property of non-object in /var/www/vhosts/moviepedia.co/Application/View/Movie/Index.phtml on line 538

Notice: Trying to get property of non-object in /var/www/vhosts/moviepedia.co/Application/View/Movie/Index.phtml on line 538

Notice: Trying to get property of non-object in /var/www/vhosts/moviepedia.co/Application/View/Movie/Index.phtml on line 538

Notice: Trying to get property of non-object in /var/www/vhosts/moviepedia.co/Application/View/Movie/Index.phtml on line 539

Notice: Trying to get property of non-object in /var/www/vhosts/moviepedia.co/Application/View/Movie/Index.phtml on line 539

Notice: Trying to get property of non-object in /var/www/vhosts/moviepedia.co/Application/View/Movie/Index.phtml on line 539

Notice: Trying to get property of non-object in /var/www/vhosts/moviepedia.co/Application/View/Movie/Index.phtml on line 540

Notice: Trying to get property of non-object in /var/www/vhosts/moviepedia.co/Application/View/Movie/Index.phtml on line 540

Notice: Trying to get property of non-object in /var/www/vhosts/moviepedia.co/Application/View/Movie/Index.phtml on line 540

Notice: Trying to get property of non-object in /var/www/vhosts/moviepedia.co/Application/View/Movie/Index.phtml on line 540

Notice: Trying to get property of non-object in /var/www/vhosts/moviepedia.co/Application/View/Movie/Index.phtml on line 540

Notice: Trying to get property of non-object in /var/www/vhosts/moviepedia.co/Application/View/Movie/Index.phtml on line 541

Notice: Trying to get property of non-object in /var/www/vhosts/moviepedia.co/Application/View/Movie/Index.phtml on line 541

Notice: Trying to get property of non-object in /var/www/vhosts/moviepedia.co/Application/View/Movie/Index.phtml on line 541

Notice: Trying to get property of non-object in /var/www/vhosts/moviepedia.co/Application/View/Movie/Index.phtml on line 542

Notice: Trying to get property of non-object in /var/www/vhosts/moviepedia.co/Application/View/Movie/Index.phtml on line 542

Notice: Trying to get property of non-object in /var/www/vhosts/moviepedia.co/Application/View/Movie/Index.phtml on line 542

Ghost in the Shell Movie affiches
Ghost in the Shell Films Similaires