Hotline Services




0444 5648 91011

Customer Email




hi@moviepedia.co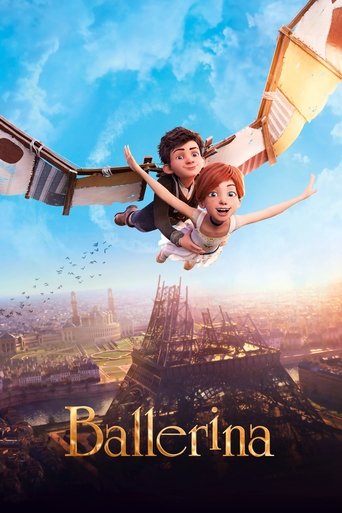 Ballerina
2016
Ballerina Synopsis
Set in 1879 Paris. An orphan girl dreams of becoming a ballerina and flees her rural Brittany for Paris, where she passes for someone else and accedes to the position of pupil at the Grand Opera house...
Directors: Éric Warin, Eric Summer.
Writer:

Carol Noble
Ballerina Quotes
Life's greatest adventures begin with a single... Leap!..
Ballerina Movie Wiki
Release Date:

2016-12-14

Status:

Released

Run time: 89 min / 1:29
Budget: $30,000,000
Original Name: Ballerina
Production Companies : Caramel Films, Quad Productions
Production Countries: France, Canada
Ballerina Trailers & Videos

Warning: file_get_contents(https://www.googleapis.com/youtube/v3/search?part=snippet&maxResults=2&safeSearch=strict&type=video&q=ballerina movie trailer&key=AIzaSyC4-w6oRwNBbBGbx6V8y70y54BzDh1WDbg&videoDefinition=high&order=viewCount): failed to open stream: HTTP request failed! HTTP/1.0 403 Forbidden in /var/www/vhosts/moviepedia.co/Application/View/Movie/Index.phtml on line 533

Notice: Trying to get property of non-object in /var/www/vhosts/moviepedia.co/Application/View/Movie/Index.phtml on line 535

Notice: Trying to get property of non-object in /var/www/vhosts/moviepedia.co/Application/View/Movie/Index.phtml on line 535

Notice: Trying to get property of non-object in /var/www/vhosts/moviepedia.co/Application/View/Movie/Index.phtml on line 535

Notice: Trying to get property of non-object in /var/www/vhosts/moviepedia.co/Application/View/Movie/Index.phtml on line 536

Notice: Trying to get property of non-object in /var/www/vhosts/moviepedia.co/Application/View/Movie/Index.phtml on line 536

Notice: Trying to get property of non-object in /var/www/vhosts/moviepedia.co/Application/View/Movie/Index.phtml on line 536

Notice: Trying to get property of non-object in /var/www/vhosts/moviepedia.co/Application/View/Movie/Index.phtml on line 536

Notice: Trying to get property of non-object in /var/www/vhosts/moviepedia.co/Application/View/Movie/Index.phtml on line 536

Notice: Trying to get property of non-object in /var/www/vhosts/moviepedia.co/Application/View/Movie/Index.phtml on line 537

Notice: Trying to get property of non-object in /var/www/vhosts/moviepedia.co/Application/View/Movie/Index.phtml on line 537

Notice: Trying to get property of non-object in /var/www/vhosts/moviepedia.co/Application/View/Movie/Index.phtml on line 537

Notice: Trying to get property of non-object in /var/www/vhosts/moviepedia.co/Application/View/Movie/Index.phtml on line 538

Notice: Trying to get property of non-object in /var/www/vhosts/moviepedia.co/Application/View/Movie/Index.phtml on line 538

Notice: Trying to get property of non-object in /var/www/vhosts/moviepedia.co/Application/View/Movie/Index.phtml on line 538

Notice: Trying to get property of non-object in /var/www/vhosts/moviepedia.co/Application/View/Movie/Index.phtml on line 539

Notice: Trying to get property of non-object in /var/www/vhosts/moviepedia.co/Application/View/Movie/Index.phtml on line 539

Notice: Trying to get property of non-object in /var/www/vhosts/moviepedia.co/Application/View/Movie/Index.phtml on line 539

Notice: Trying to get property of non-object in /var/www/vhosts/moviepedia.co/Application/View/Movie/Index.phtml on line 540

Notice: Trying to get property of non-object in /var/www/vhosts/moviepedia.co/Application/View/Movie/Index.phtml on line 540

Notice: Trying to get property of non-object in /var/www/vhosts/moviepedia.co/Application/View/Movie/Index.phtml on line 540

Notice: Trying to get property of non-object in /var/www/vhosts/moviepedia.co/Application/View/Movie/Index.phtml on line 540

Notice: Trying to get property of non-object in /var/www/vhosts/moviepedia.co/Application/View/Movie/Index.phtml on line 540

Notice: Trying to get property of non-object in /var/www/vhosts/moviepedia.co/Application/View/Movie/Index.phtml on line 541

Notice: Trying to get property of non-object in /var/www/vhosts/moviepedia.co/Application/View/Movie/Index.phtml on line 541

Notice: Trying to get property of non-object in /var/www/vhosts/moviepedia.co/Application/View/Movie/Index.phtml on line 541

Notice: Trying to get property of non-object in /var/www/vhosts/moviepedia.co/Application/View/Movie/Index.phtml on line 542

Notice: Trying to get property of non-object in /var/www/vhosts/moviepedia.co/Application/View/Movie/Index.phtml on line 542

Notice: Trying to get property of non-object in /var/www/vhosts/moviepedia.co/Application/View/Movie/Index.phtml on line 542