Hotline Services




0444 5648 91011

Customer Email




hi@moviepedia.co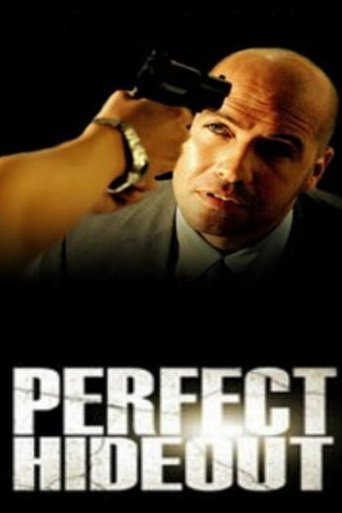 Perfect Hideout
2008
Perfect Hideout Synopsis
A young couple on the run take a family father as a hostage and are shocked to realize that he actually is a serial killer who just murdered the family. With the police on the outside and the killer on the inside they now have nowhere to run and nowhere to hide, all whilst trying to solve their relationship problems... This is an action packed thriller with tongue in cheek..
Perfect Hideout Quotes
Perfect Hideout movie quote not found..
Perfect Hideout Information
Perfect Hideout Movie Wiki
Release Date:

2008-06-19

Status:

Released

Run time: 90 min / 1:30
Original Name: Perfect Hideout
Production Countries: Germany, Netherlands
Perfect Hideout Trailers & Videos

Warning: file_get_contents(https://www.googleapis.com/youtube/v3/search?part=snippet&maxResults=2&safeSearch=strict&type=video&q=perfect-hideout movie trailer&key=AIzaSyC4-w6oRwNBbBGbx6V8y70y54BzDh1WDbg&videoDefinition=high&order=viewCount): failed to open stream: HTTP request failed! HTTP/1.0 403 Forbidden in /var/www/vhosts/moviepedia.co/Application/View/Movie/Index.phtml on line 533

Notice: Trying to get property of non-object in /var/www/vhosts/moviepedia.co/Application/View/Movie/Index.phtml on line 535

Notice: Trying to get property of non-object in /var/www/vhosts/moviepedia.co/Application/View/Movie/Index.phtml on line 535

Notice: Trying to get property of non-object in /var/www/vhosts/moviepedia.co/Application/View/Movie/Index.phtml on line 535

Notice: Trying to get property of non-object in /var/www/vhosts/moviepedia.co/Application/View/Movie/Index.phtml on line 536

Notice: Trying to get property of non-object in /var/www/vhosts/moviepedia.co/Application/View/Movie/Index.phtml on line 536

Notice: Trying to get property of non-object in /var/www/vhosts/moviepedia.co/Application/View/Movie/Index.phtml on line 536

Notice: Trying to get property of non-object in /var/www/vhosts/moviepedia.co/Application/View/Movie/Index.phtml on line 536

Notice: Trying to get property of non-object in /var/www/vhosts/moviepedia.co/Application/View/Movie/Index.phtml on line 536

Notice: Trying to get property of non-object in /var/www/vhosts/moviepedia.co/Application/View/Movie/Index.phtml on line 537

Notice: Trying to get property of non-object in /var/www/vhosts/moviepedia.co/Application/View/Movie/Index.phtml on line 537

Notice: Trying to get property of non-object in /var/www/vhosts/moviepedia.co/Application/View/Movie/Index.phtml on line 537

Notice: Trying to get property of non-object in /var/www/vhosts/moviepedia.co/Application/View/Movie/Index.phtml on line 538

Notice: Trying to get property of non-object in /var/www/vhosts/moviepedia.co/Application/View/Movie/Index.phtml on line 538

Notice: Trying to get property of non-object in /var/www/vhosts/moviepedia.co/Application/View/Movie/Index.phtml on line 538

Notice: Trying to get property of non-object in /var/www/vhosts/moviepedia.co/Application/View/Movie/Index.phtml on line 539

Notice: Trying to get property of non-object in /var/www/vhosts/moviepedia.co/Application/View/Movie/Index.phtml on line 539

Notice: Trying to get property of non-object in /var/www/vhosts/moviepedia.co/Application/View/Movie/Index.phtml on line 539

Notice: Trying to get property of non-object in /var/www/vhosts/moviepedia.co/Application/View/Movie/Index.phtml on line 540

Notice: Trying to get property of non-object in /var/www/vhosts/moviepedia.co/Application/View/Movie/Index.phtml on line 540

Notice: Trying to get property of non-object in /var/www/vhosts/moviepedia.co/Application/View/Movie/Index.phtml on line 540

Notice: Trying to get property of non-object in /var/www/vhosts/moviepedia.co/Application/View/Movie/Index.phtml on line 540

Notice: Trying to get property of non-object in /var/www/vhosts/moviepedia.co/Application/View/Movie/Index.phtml on line 540

Notice: Trying to get property of non-object in /var/www/vhosts/moviepedia.co/Application/View/Movie/Index.phtml on line 541

Notice: Trying to get property of non-object in /var/www/vhosts/moviepedia.co/Application/View/Movie/Index.phtml on line 541

Notice: Trying to get property of non-object in /var/www/vhosts/moviepedia.co/Application/View/Movie/Index.phtml on line 541

Notice: Trying to get property of non-object in /var/www/vhosts/moviepedia.co/Application/View/Movie/Index.phtml on line 542

Notice: Trying to get property of non-object in /var/www/vhosts/moviepedia.co/Application/View/Movie/Index.phtml on line 542

Notice: Trying to get property of non-object in /var/www/vhosts/moviepedia.co/Application/View/Movie/Index.phtml on line 542

Perfect Hideout Movie Posters
Perfect Hideout Similar Movies